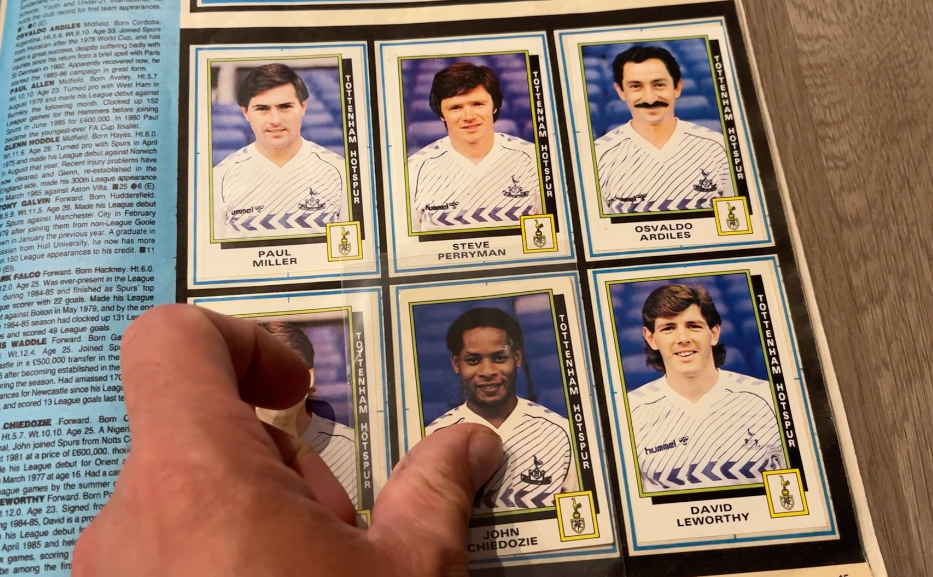 Panini Album completed after 37 years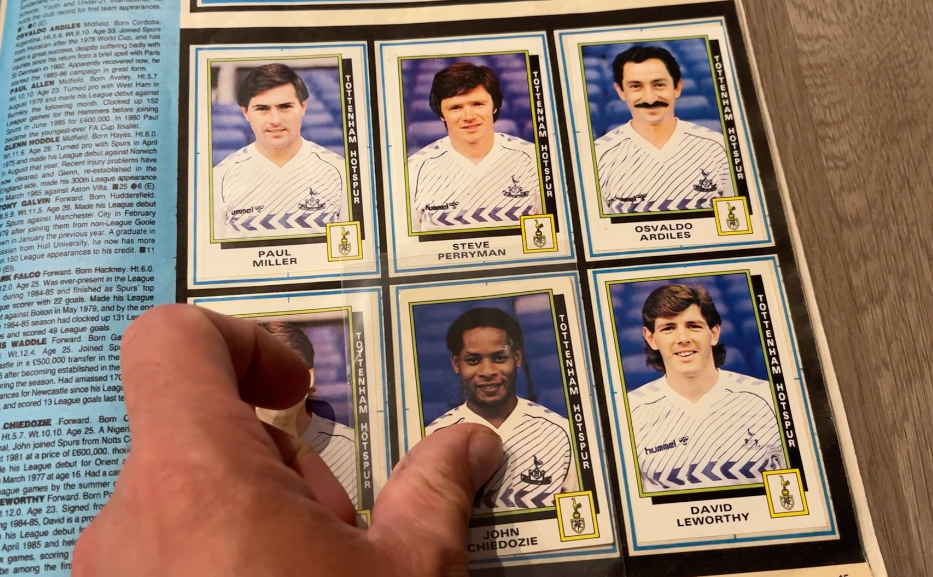 Like many of us, I collected Panini football stickers as a kid. Back in 1986 when I was eleven and in my last year at Primary school. I vividly remember collecting these football stickers and trading our swaps in the school playground with my friends. "Got, Need, Swap" would be heard throughout the whole school year. Many kids would congregate in the corner of the playground with a whole pile of stickers that their parents had kindly funded. Even then it was 10p a packet and would cost over 10 pounds to complete the book with no swaps.
I can still recall the buzz. We all traded our stickers at school and bought more packets every weekend. The thrill of completing a page, then a team or a section was so addictive. This particular year contained 'shinies' of all the cups and many famous faces still involved in the sport today. There is a young fresh-faced Gary Lineker playing for Everton and John Barnes with a Watford kit. Peter Shilton is beaming with his curly locks for Southampton along with Stuart Pearce for Notts Forest and Garth Crooks in an amusing 'No Smoking' West Bromwich Albion kit. Other highlights include the facial hair of Mark Lawrenson (Liverpool), Chris Hughton (Spurs) and Mick McCarthy (Man City).
Anyway, I digress. Eventually my friends and I all got close to completing our books and were able to send off for 20 or so remaining missing stickers to complete our collections.
I rounded up my mates and took down all their missing sticker numbers, put them with mine and filled out the order form in the back of the book. Then my mate Steve told me he no longer needed sticker 338 and I could cross it off of the list. I did so and sent off the form for our missing stickers. When they arrived, I handed them out and was surprised to find I still had one missing! Sticker 338, John Chiedozie who played for Tottenham Hotspur. It turned out I had needed it as well as Steve but had accidentally crossed both off of my list when he no longer needed it.
My book was incomplete. I was devastated. I almost couldn't look at it. The empty rectangular shape staring back at me rather than sticker number 338. My friends had completed their books or given up collecting and the school year had finished. How would I get the remaining sticker? I put it on the bookshelf with my Beanos and forgot about it.
In the late 1990's later when the internet became popular, I emailed Panini and Match Magazine to get some help but I heard nothing and eventually the album ended up in my parents loft and then in my own loft when i moved out.
Fast forward to June 2023 and my eleven-year-old son is now collecting Panini football stickers. He is the same age I was in 1986 and so retrieved the sticker book from the loft and showed him my incomplete album. "Wow" he said, pouring over the old faces and looking at the teams who used to be in the first division. "You had shinies then?" After mocking me for a bit he said "You should try and get the missing sticker off Ebay!"
Not a bad idea I thought, I had long given up hope of completing the book, but what were the chances of finding a sticker from 37 years ago?  I wasn't even sure what it looked like. Maybe I could purchase a completed book but I would like to find the missing sticker and have the sense of completion sticking it in.
The two of us sat down together at my laptop and entered the details into the search bar and clicked enter. Twenty five results! We scoured through the irrelevant listings and to my surprise an Ebay seller named andyorell2002, had a listing entitled 'Panini Football 86 Stickers – VGC! nos 301-574  – Pick Your Numbers!'.
My heart fluttered. There were a range of original stickers still available complete with photos as evidence. I found number 338 on the dropdown list, selected it and purchased it for a pound plus postage. Was the search over?  Could this be the correct missing sticker and for a proper bargain to boot?
It arrived in the post a week later. Safely packaged up and in brand new condition. It was the perfect, the correct player and the correct year.  There was a little fanfare moment when my son and I stuck John Chiedozie in the book alongside Chris Waddle. Yes, I was so excited I even posted it on Facebook! Football 1986 was completed at last, 37 years after I started it. Is this a world record? I doubt it, I wonder how long it will take to my son to complete his book?